Whale Watch Report for 7-30-2022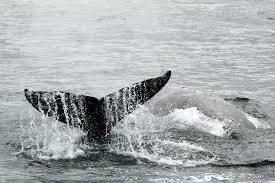 Right on the Rostrum!
7-30-2022
Katie Robertson

We are big fans of Gray Whales here in Depoe Bay, as they are one of our namesakes. As such, bringing others out to experience their beauty and might, and sharing all we know about these amazing animals is very important to us. While you may not be able to see the entire whale from the boats, you can see from their rostrum (nose) to fluke (tail), giving you a pretty good idea of the size of these creatures. The maximum length they reach at adulthood is around 49 feet. To put that into perspective, our boats range from 43-50 feet. That's a huge animal! Come out with us and learn even more about our favorite ocean giants. Book online or over the phone at (541) 765-2345.