Fish Report for 7-2-2023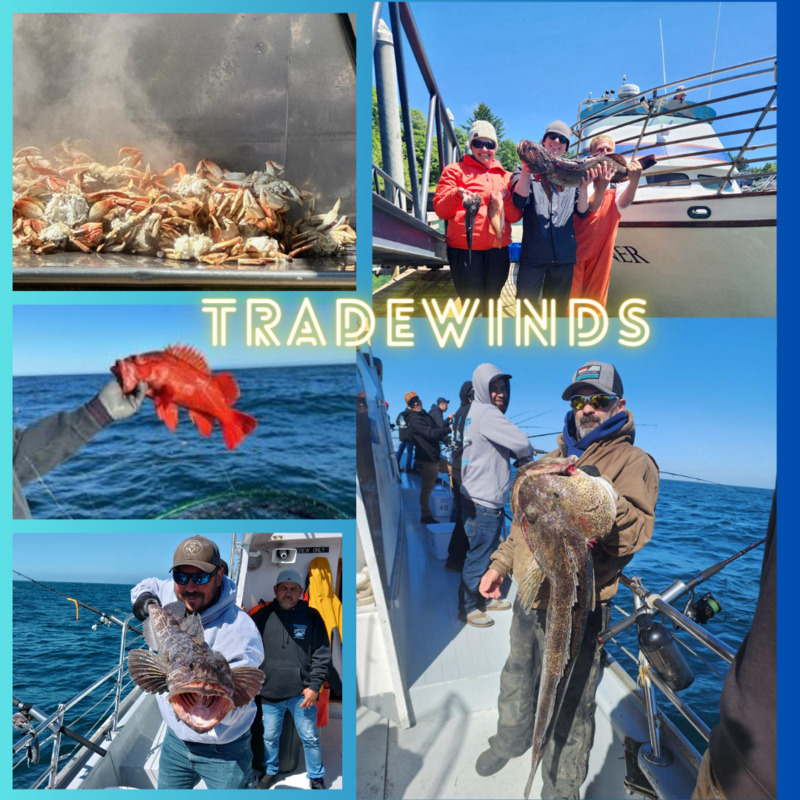 Bottoms Up - Big Ling
7-2-2023
Mellissa Sumner

Epic morning for fishing with us at Tradewinds! The Northerly winds kicked in a couple of hours early, creating challenging fishing conditions. However, the anglers still managed to land fantastic catches!
Kadaho:
Despite the early northerly winds, the fishing experience at Kadaho was nothing short of exciting. Anglers battled the elements and were rewarded with some impressive catches. Rock fish were a bit slower to bite providing an exhilarating challenge for all participants.
Mariner:
The Mariner was not deterred by the challenging conditions, and the skilled anglers on board managed to reel in some real monsters. The highlight of the trip was the capture of several massive Ling Cod. These impressive fish put up a fierce fight, testing the angler's skills to the limit. It was an incredible experience for all those on board.
Mr. Max:
Despite the early arrival of northerly winds, the anglers aboard Mr. Max were undeterred in their pursuit of a successful fishing trip. Though the conditions posed some difficulties, they didn't dampen the spirits of the anglers, who landed some impressive catches. Throughout the day, they managed to hook into a variety of fish. It was a testament to their determination and skill.
Outer Limits:
The Outer Limits faced the challenging conditions head-on and emerged victorious. The anglers on board were rewarded with an unforgettable fishing experience, as they hauled in monster Ling Cod. These impressive catches showcased their expertise and made for an incredible day on the water. Despite the current and northerly winds, the Outer Limits lived up to its name, pushing the limits of what's possible in fishing.
Overall, despite the obstacles presented by the early northerly winds and currents, the fishing trip on Kadaho, Mariner, Mr. Max, and Outer Limits proved to be a memorable adventure. The Captains and Crew displayed their determination, skills, and love for fishing, resulting in fantastic catches, with the highlight being the monster Ling Cod caught on Mariner and Outer Limits. It was a day filled with excitement and success, leaving everyone eagerly anticipating their next fishing excursion.
Book your day of memories by calling (541)765-2345 or go online at https://www.tradewindscharters.com