Fish Report for 8-3-2021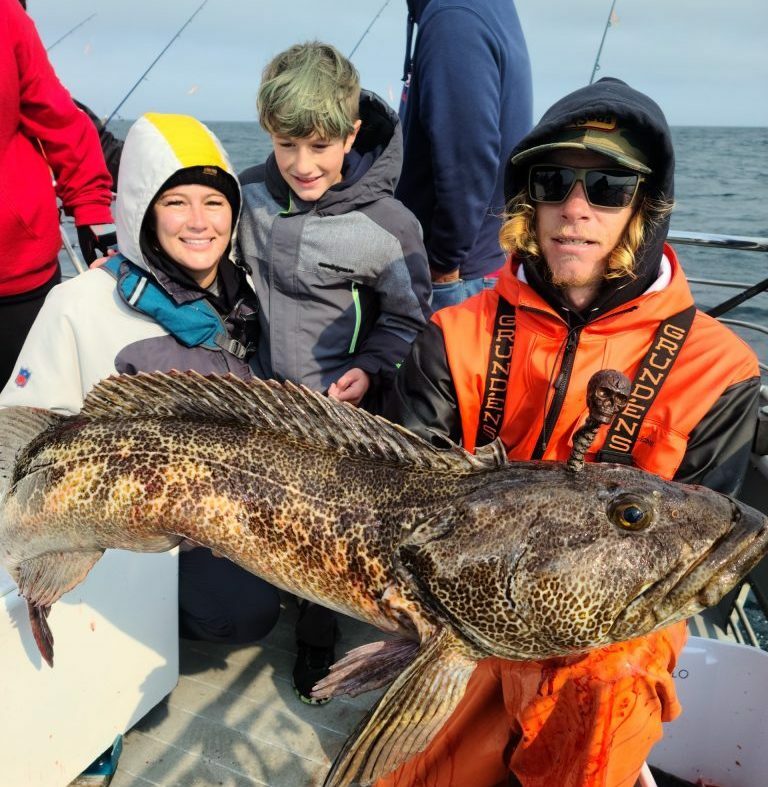 Awesome Lingcod Catch!
8-3-2021
Fish Reports Staff

Early morning salmon report for this morning has one boat already back in with a limit of salmon. The action was spectacular!! Most will tell you that an honest assessment of this years salmon season would show that it might not have ever been as good as this in the past 30+ years. Yes, we have had some slower days where there have been only a few fish caught but for the most part the action has been really good to amazing. Now, the fish are gaining weight it seems by the day and to see some 10-pound Coho salmon caught is not out of the ordinary. Come down and catch a few salmon with the best on the coast-Tradewinds Depoe Bay.
Better bottom fishing this morning was better then what it has been as a little change in water temperature has helped. However that change in water temperature is slow coming as the northerly winds just keep blowing hard in the afternoon and early evening hours. Tomorrow (Wednesday) seems to be the final day of this 10-day windy system we have been seeing. None-the-less the fishing was decent this morning with fining bass and bird banks working on surface bait but the fish were biting some but not like when we see conditions like this normally. A huge Lingcod come up and ate a bass right off the hook and got hooked himself in the process. The young boy in the picture did the hard work and with some advise from the skipper and dad & got the fish. Quite a specimen would you not think?
ODFW Weekly Coho Salmon Harvest Numbers
As of August 2nd (Monday) w have caught 40,157 Coho salmon which were harvested as part of our 120,000 fish quota which ends August 28th. That comes down even with the great fishing only slightly over 33% of the quota has been caught even with this great fishing we are having. Pretty darn positive that we will be fishing salmon this summer clean up to the August 28th final day of summer fishing. This is also great news because it allows the bottom fishing to be not so heavily fished so we keep that open also thru the summer and early fall months.
So far Depoe Bay has landed 4,322 legally harvested Coho salmon & 4,478 fish with attached adipose fin put safely back into the water. We are averaging by those two numbers 1.04 fish per salmon angler trip. Newport as normal is far ahead of everyone with 18,425 Coho salmon harvested but that is because they have many-many times the number of boats leaving the harbor to fish for them. We are 3rd with only Winchester Bay in front of us and Garibaldi/Depoe Bay very close together in third place.
Its a great time to fish with TW for salmon and bottom fish so get down here and fish with us before the summer fades away